European Centres of Academic Excellence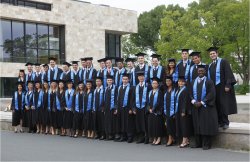 The program is aimed at students with a prior degree in law or business/economics and who wish to combine theoretical knowledge with practical training in law and international finance.

The curriculum is interdisciplinary, with emphasis on the EU and the US. The ILF faculty comprises leading academics and experienced practitioners from Europe's financial world e.g. law firms, banks, central banks, regulatory authorities and the European Central Bank.

Located in Frankfurt am Main, Germany, the major financial center in Europe, the ILF provides the ideal location to train professionals to deal with current and future legal and financial challenges. It would indeed be the perfect location to enhance your career to the next level or upgrade your knowledge. The ILF celebrates its 10th anniversary in 2012!
The Master in Economics: Empirical Applications and Policies is a one year full-time official research program organised in Bilbao at the Faculty of Economics and Business of the Basque Country.



Our students will obtain a profound understanding of the theoretical skills and the empirical tools and computational techniques that economists use to analyse data.

Highly motivated students with a bachelor's degree in economics, or any other comparable undergraduate major such as engineering or mathematics, are encouraged to apply for this program.

Our Master is designed as a link between academic scholarship and firms or international public institutions where a solid research component is required. Those who opt for a pure research career will have already acquired the knowledge and skills necessary to begin working independently on their Ph.D. dissertations.


The School of Engineering and Design is one of the largest and most successful engineering and design Schools in the UK, providing exciting, industrially relevant undergraduate and postgraduate courses.

Brunel Engineering and Design courses feature high in UK league tables. In The Sunday Times University Guide 2011 Design featured 1st, and in The Guardian University Guide 2011 General Engineering was rated 6th in the UK.

The School's high reputation has led to extensive and close collaborative links with industry resulting in graduates enjoying excellent employment prospects.

Brunel is conveniently situated 17 miles to the west of Central London and enjoys easy access to the city centre (1 hour on the underground from the nearest town Uxbridge). We have 23 undergraduate and 20 postgraduate taught programmes in a broad range of engineering disciplines, for more information see the "read more" link.