Master of Business Administration and Engineering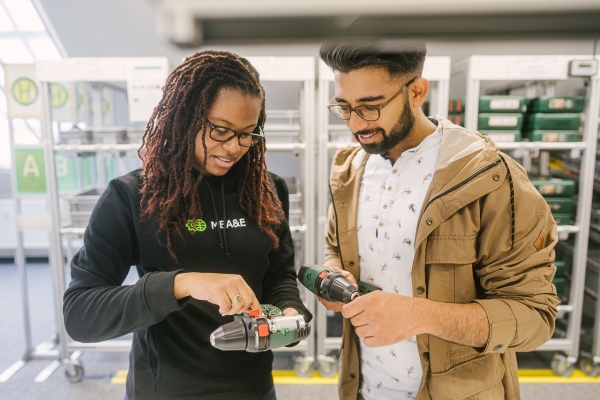 High demand for international technical professionals
With global economic uncertainty leading to high unemployment in many countries and sectors, Germany is an encouraging exception. Especially the German industry and technical professions seem exceptionally well protected, profiting from both domestic and export demand.
For engineers and technical managers, career opportunities have actually been never better. Currently, many engineering positions are open across the federal republic, with not enough engineers available on the job market (source: Verein Deutscher Ingenieure VDI).
Therefore, companies are increasingly looking to employ professionals from abroad – strengthening the role of English as the workplace language as they go. The German lawmakers have made the process simpler, too. International applicants are now formally even with national ones, and graduates from German study programmes receive an 18-month work seeking residence permit, which can be easily converted into a work permit. High salaries and good working and living conditions attract many international graduates from German universities to stay.
Tradition in interdisciplinary management/engineering education at the HTW Berlin
The HTW Berlin has had very much success educating interdisciplinary "business engineers" for the national and international job markets. Whereas traditional engineering skills in areas such as mechanical, electrical or automation engineering are always in demand as specialists, business engineers very successfully bridge the gap between the technical and business administration domains.
While it is possible to study a regular Bachelor's degree in this area, the HTW offers a postgraduate choice for candidates who have already graduated with a Bachelor's degree in another area: The Master of Business Administration and Engineering (MBA&E). The MBA&E offers a coordinated, fully English language alternative to an international audience, supported by a dedicated program office for coordination and student service.
The MBA&E – a fluent entry into a management career for technical professionals
The MBA&E aims at providing technical professionals with management skills, enabling them to embark onto a technical management career. Our core target audience are technical professionals from all over the world. While a typical MBA&E graduate would enter a position such as project manager at a multinational company, there are numerous career paths available: our alumni can be found in the industry, in services business, as entrepreneurs and academics, and even in public service. The breadth of available career paths is enabled by the flexible curricular design combining business administration, technology and five optional specializations: Global Leadership in Engineering (GLE), Interdisciplinary Management (IM), Automotive Management (AM), Lean Management (LM) and Global Procurement (GP).
At the MBA&E, we consider our support services and labour market knowledge an important addition to the studies themselves. During the course of study, students have the opportunity to visit German companies and professional events. In addition, the programme office offers counselling on career planning and the application process, both as seminars and individually.
For further information, please contact us at any time.
Ms Kalinka Frielingsdorf
Programme Manager
Ostendstrasse 1, Office PBH-1110
D-12459 Berlin
Tel. +49 30 5019 2411
E-Mail:
mbae(at)htw-berlin.de
For more on the MBA&E visit MBA&E HTW Profile in
EuroEducation
By Mr. Antti Kapanen, Research Associate, HTW Berlin, Germany