Oxford Brookes University
Business School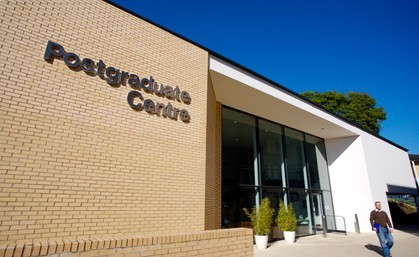 Here at Oxford Brookes University Business School our academic staff have deep connections and a wealth of experience with the business world. This makes your course relevant, interesting, and practical, maximising your employability and putting you ahead of your competitors.
The Business School is made up of 150 academic staff, 2000 undergraduates and 500 postgraduate and research students. You will be part of a truly international community, with students from over 150 countries we prepare our students for life in an increasingly global marketplace.
Oxford Brookes is a forward-thinking University with a longstanding reputation for employability. Our dedicated Careers Centre will prepare you for interviews, assessment centres and give you every possible advantage when it comes to applying for your dream job. Recent graduates have gone on to work with global companies including Facebook, Apple, IBM, BMW, Microsoft, Virgin Atlantic and KPMG, among many others.
Highlights
• Oxford Brookes University has an excellent reputation for its teaching and learning.
• The Business School courses are accredited by professional organisations including The Chartered Management Institute (CMI), The Association of MBAs (AMBA), The Association of Chartered Certified Accountants (ACCA) and The Chartered Institute of Logistics and Transport (CILT).
• Oxford Brookes is one of very few UK business schools designated as a Centre of Excellence in Teaching and Learning and charged with sharing best practice in teaching and learning with other business schools in the UK.
• The ability to study most of our courses part-time allows you to enhance your career without making personal or professional sacrifice.
Studying in Oxford
Oxford is a global centre for education. You will study an exciting course in a historic and beautiful city.
Oxford is one of the greatest cities for students. From libraries to nightclubs and from castles to coffee shops, Oxford has everything that a student could ask for.
Located just over an hour away from London, Oxford is one of the most prosperous economic areas in the United Kingdom. It is home to a blossoming business culture with many companies from many industries successfully expanding in the area. This provides you with hundreds of opportunities right on your doorstep.
Students writing dissertations have access to world-leading resources including the Bodleian Library, the country's second largest library, and the Radcliffe Science Library. In addition to this Oxford Brookes has recently opened a brand new library on its Gipsy Lane campus, part of the new £132million John Henry Brookes Building and Abercrombie complex. The John Henry Brookes Building was the big winner at the Royal Institute of British Architects (RIBA) South awards, and is in contention for the prestigious Stirling Prize.
Research
Oxford Brookes Business School has a strengthening culture of research across all subjects, with many academics globally recognised as leaders in their field.
We encourage this research to filter through and influence the teaching of our courses, putting students at the forefront of their desired subject.
As part of your course you will carry out your own research project. This can take the form of a dissertation, work-based project or consultancy project.
You will integrate into the growing research culture of Oxford Brookes Business School. This not only breaks down the barrier between student and teacher, but enhances the employability of any student that takes this opportunity.
Employability
At Brookes, your career is our priority. Teaching staff have deep connections with the business world and design their courses with this experience.
Features such as consultancy projects, visiting speakers and industry visits help you stand out from the crowd in the competitive job market, providing you with professional contacts and work experience opportunities.
We also offer flexible part time courses that fit around you, giving you the opportunity to build upon your careers aspirations.
Oxford Brookes Awards and Rankings
Oxford Brookes is currently ranked as one of the best modern universities in the UK.
The University has topped the rankings for modern universities – those created since 1992 – for 11 of the past 12 years in The Sunday Times University Guide. Need to check Pete is happy with quoting this as we did not win last year, but I think you have phrased it well.
The Guide has repeatedly praised Brookes for the quality of its teaching which no other modern university and few older institutions can match. The Times and The Sunday Times' University Guide is one of the most respected league tables and looks at the performance of universities across the UK in fields like teaching, research, student satisfaction and graduate employment prospects.
Full-time Programmes
Accounting, Finance and Economics Programmes:
MSc Accounting and Finance
MSc Finance
Business and Management Programmes:
MSc International Business Management
MSc International Business Management and Corporate Social Responsibility
MSc International Business and Marketing Management
MSc International Business Management and Entrepreneurship
MSc Human Resource Management
MSc Management
MSc International Management and International Relations
Marketing Programmes:
MSc Marketing
MSc Marketing and Brand Management
MSc International Luxury Marketing
MSc Digital Marketing
Hospitality Programmes:
MSc International Hospitality, Events and Tourism Management
MSc International Hotel and Tourism Management
Part-time Programmes
Master of Business Administration:
The Oxford Brookes Global MBA
Professional Development Programmes:
MA Human Resource Management
Diploma in Human Resource Management