SDA Bocconi School of Management
Università Bocconi, Milan, Italy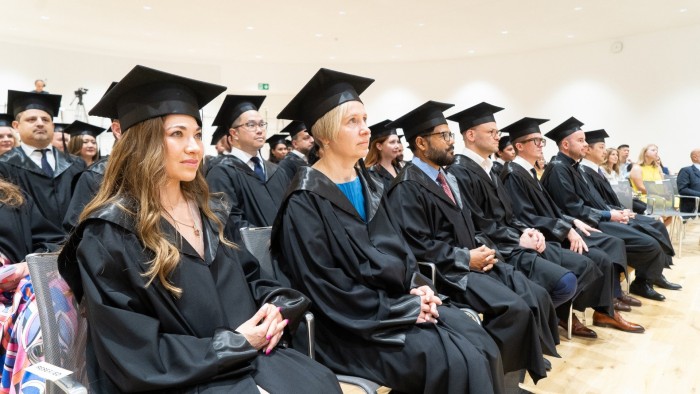 The leading School of Management in Italy and the only Italian School present in all of the most important International rankings (Financial Times, Bloomberg Businessweek, The Economist, Forbes), SDA Bocconi has established itself as a European leader in higher education.
SDA Bocconi School of Management is part of Università Bocconi, the first Italian University to grant a degree in economics. For over a century, Bocconi has played a leading role in Italy's social and economic modernization.
SDA Bocconi has been engaged in the promotion and organization of executive education since 1971, with an International approach. The School's vision of empowering life through knowledge and imagination lies behind its program offerings: Executive Education Open and Custom Programs, MBA and Master Programs, for the development of individuals, companies, institutions and economic systems.
Choosing SDA Bocconi and coming to Milano means choosing a vibrant environment, the entrepreneurial, financial and industrialized center of Italy, a doorway to Europe. In short, a wealth of international contacts and opportunities.
And Milano, of course, is culture, fashion, design, food and the art of living.
MASTER'S PROGRAMMES
Master in Arts Management and Administration
Master in Arts Management and Administration (MAMA) is designed for Sports, Entertainment and Exhibitions Industries. It is a global experience taught through 6 modules in 5 cities throughout Europe and the Middle East.
Executive Master in Business of Events
Executive Master in Business of Events (EMBE) is a full-time, international, one-year program that is taught entirely in English and attracts students from all over the world. MAMA aims to support artistic innovation and cultural development worldwide, by strengthening the leadership and management skills required for arts organizations to thrive.
Master in Corporate Finance
The Master in Corporate Finance (MCF) is an intense and stimulating one-year program in English, designed to provide students with the knowledge and skills necessary to drive innovation and master different international finance management techniques and tools, whether you work for a company or an institution. Choosing MCF means investing in your personal and professional development, with a view to taking your career to the next level.
Executive Master Program in Luxury Management
The Executive Master in Luxury Management (EMiLUX) is a post-experience, modular executive program, taught over 13 months. Participants without having to leave their job, will start opening doors they never knew were there, to meet their goals successfully.
EMiLUX aims at training managers and future leaders who want to know the code of this specific industry by providing them with a comprehensive framework of the luxury value-chain.
Master Program in Fashion, Experience & Design Management
The structure is strongly cross-disciplinary. SDA Bocconi's strong partnership with business communities ensures the perfect blend of art, craft and science that is the essence of fashion and design. The MAFED program consists of: general management courses, specialized courses on Fashion, Design & Experience Management, field projects and advanced seminars. Students without a business background may attend pre-courses before the beginning of the program.
Global Executive MBA
The SDA Bocconi Global Executive MBA is a 20 month program that alternates between face-to-face modules and distance learning platforms. Participants take a total of 10 modules every other month (covering 61 F2F full-time equivalent days), 8 delivered for one week, plus two 9-day modules. Four modules take place at international Partners such as UCLA Anderson School of Management (Los Angeles - USA), Fudan University (Shanghai - China), Copenhagen Business School (Denmark) and FIA-Fundação Instituto de Administração in São Paulo.
Master of International Health Care Management, Economics and Policy
The program sees three terms when students take Core Courses and Specialization Courses, and ends with a fourth term, during which students participate in an internship within a health care organization, insitution or company in Italy or abroad. Internships may be performed in pharmaceutical/medical device companies, national and regional health authorities, hospitals, health insurance organizations, NGOs, supranational organizations, research centres and consulting companies. All represent potential employing organizations for MIHMEP students.
Executive Master in Marketing & Sales
The Executive Master in Marketing & Sales (EMMS) by SDA Bocconi is a specialized and international master that runs over 14 months and is taught entirely in English. The executive format of the program means that traditional classes are combined with distance learning sessions, allowing you to work and study at the same time. The master focuses on sales and marketing, and offers you the opportunity to study not only at SDA Bocconi in Milano but also at ESADE in Barcelona and Madrid.



Full-time MBA
The 1-year Full-Time MBA is the School's flagship program with just about 100 MBA students. The Program starts with Opening Week: a one-week MBA boot camp, during which you are asked to understand and live the essence of your forthcoming year. Full-Time MBA structure is organized around three cornerstones: Planning and Innovation, Leading people and Processes, Controlling and Investment.
Executive Master in Management of International Organizations (EMMIO)
The Executive Master in Management of International Organizations (EMMIO) is a part-time blended program that successfully prepares participants to tackle the biggest managerial challenges of modern international organizations (among which: United Nations, International NGOs, Intergovernmental and Supranational Organizations), compacting an impressive workload and a full-fledged executive master program into a nine-month educational path compatible with full employment.