International Centres of Academic Excellence
PR.I.MA. is a full time postgraduate programme offered by the Department of Marketing & Communication of the Athens University of Economics & Business (AUEB), Greece.



The duration of the Programme is 15 months, divided into 3 semesters and includes 8 core and 2 elective courses as well as a dissertation. The courses cover a broad array of topics in the areas of global marketing strategy, cross cultural management and communication.
The dissertation can take the form of an academic project at the AUEB or abroad supported by an Erasmus grant or a field study project in a company. Workshops are offered by distinguished company executives throughout the programme, while a three-day seminar on Personal and Professional Development specifically tailored for the programme's postgraduates is offered.
University of Bath
Freie Universitšt Berlin
Humboldt Universitšt zu Berlin
Universidad Carlos III de Madrid
Sciences Po Paris
Charles University, Prague
Universitŗ degli Studi di Siena,
University of Washington (Seattle)
Students gain a broad comparative understanding of the EU, US politics, policy and social evolution and specialist knowledge of issues in the Euro-Atlantic area.
The Euromasters is highly regarded by employers for their depth and breadth of knowledge and analysis. The hands-on international experiences graduates gain is valued highly. Apply now for October 2012:
The A. Gary Anderson Graduate School of Management (AGSM) at the University of California, Riverside is one of the nation's fastest growing business graduate schools.

As part of a world-class research institution, AGSM is shaping the future by developing leading thinkers who will stand at the forefront of business growth.

Ranked in the top 100 best graduate business schools by U.S. News & World Report, AGSM offers a MBA Program that promises University of California excellence and features a faculty of preeminent scholars and practitioners in their fields.
AGSM also offers a one-year Master of Professional Accountancy (MPAc) Program, designed to prepare students to become accounting and auditing professionals.
The English-language interdisciplinary Master's program in Modern Indian Studies at the Centre for Modern Indian Studies (CeMIS) integrates perspectives from the humanities, the social sciences and economics. Thematically, inequality and diversity link our analyses of modern Indian politics, history, society, religion and economy.
MA students select from a wide range of interdisciplinary courses offered by lecturers and researchers from CeMIS, and from the faculties of the Social Sciences, Humanities, and Economics. These are complemented by courses taught by international visiting scholars. Courses in modern Indian languages are part of the program.
This MA is a two-year course, including a semester at a South Asian partner universities.
Tuition fee EUR 500/semester + approx. EUR 217 service fees/semester
Applications: 06.04.2012 - 15.05.2012
Web: http://www.uni-goettingen.de/
email: michaela.dimmers@sowi.uni-goettingen.de
Founded in 1979, Nottingham Business School has grown to be one of the UK's largest business schools.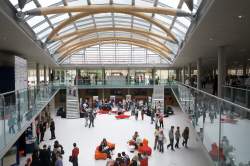 All our courses are designed to equip you with enhanced skills required to meet the ever changing needs of business.
With a wide range of postgraduate level courses including Management and specialist areas such as Marketing, Economics and Finance; by choosing Nottingham Business School you can be sure that you will graduate with the qualifications needed to open the door to an exciting and rewarding career.
Our open events are an excellent opportunity for you to find out more about Nottingham Business School. If you're unable to attend, please visit our Virtual Open Day.