European Centres of Academic Excellence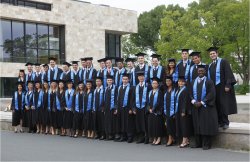 The program is aimed at students with a prior degree in law or business/economics and who wish to combine theoretical knowledge with practical training in law and international finance.

The curriculum is interdisciplinary, with emphasis on the EU and the US. The ILF faculty comprises leading academics and experienced practitioners from Europe's financial world e.g. law firms, banks, central banks, regulatory authorities and the European Central Bank.

Located in Frankfurt am Main, Germany, the major financial center in Europe, the ILF provides the ideal location to train professionals to deal with current and future legal and financial challenges. It would indeed be the perfect location to enhance your career to the next level or upgrade your knowledge. The ILF celebrates its 10th anniversary in 2012!
Looking for a new start in the New Year?

Aberdeen Business School offers a large selection of postgraduate courses beginning in January. These include some brand new courses including our MBA Information Management and MSc in Energy Management.
With flexible options to learning including excellent online study through Moodle. Postgraduate study at Aberdeen Business School is the smart and affordable way to improve your career prospects. The School is part of the Robert Gordon University which is consistently rated as one of the top UK modern universities.

Transporting people and goods over land, on the water and in the air – that is the best way to summarise the professional field of the Transport and Logistics study programme.
Our Master of Arts in Transport & Logistics Management is oriented towards business activities focusing on the transport and logistics sector, such as aviation or freight transport. This programme is just right for applicants who have already taken a degree in, for example, Aviation Management, Tourism, Geography, Economics or Business Administration or have completed a course in Engineering.
The programme conveys in-depth knowledge on the economic interrelationship between the transport and logistics sectors. It additionally focuses on management tools that are important for this area of business.
For more information please visit: www.iubh.de/master_transport_logistics_management