European Centres of Academic Excellence
LOOKING TO GAIN A PROFESSIONAL QUALIFICATION WITH EXCITING CAREER PROSPECTS?



The College of Estate Management is a leading provider of supported distance learning for real estate and construction professionals. We have been playing a key role in the property world for over 90 years. Our courses are designed for existing and aspiring property practitioners who don't want to interrupt their career while they study.

BCSC Diploma in Shopping Centre Management
PGDips in Adjudication and Arbitration
PGDips/MScs in Surveying, Conservation of the Historic Environment, Facilities Management and Property Investment
RICS Postgraduate Diploma in Project Management
RICS Professional Membership Graduate Route

For further information, please visit www.cem.ac.uk, email courses@cem.ac.uk or telephone +44 (0) 118 921 4696.
Wholly postgraduate, Cranfield is one of the UK's leading research-intensive institutions. Our School of Applied Sciences has an international reputation for cutting-edge research and teaching in design, energy, environment, manufacturing, materials, motorsport, water and welding.
We offer specialist Masters' courses, which incorporate company sponsored project work. Graduates are highly sought after in our leading sectors:
We are offering subject specific scholarships up to £9000+UK/EU fees
Funded research opportunities are currently available across manufacturing, energy, water and environment offering up to £17,000p.a.
You are invited to attend our Environment Open Day on 9th Nov and University Open Day on 16th Nov.
Nottingham Business School – the Business School for Business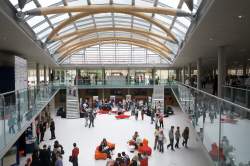 Founded in 1979, Nottingham Business School has grown to be one of the UK's largest business schools. All our courses are designed to equip you with enhanced skills required to meet the ever changing needs of business.
If your specialism is Management, you may be interested to learn that we have spaces available on our MSc Management, MSc Management and Marketing and MSc Management and International Business courses. All three courses are due to start in January 2012.
By choosing Nottingham Business School you can be sure that you will graduate with the qualifications needed to open the door to an exciting and rewarding career.
Our open events are also an excellent opportunity for you to find out more about Nottingham Business School. If you're unable to attend, please visit our Virtual Open day at www.ntu.ac.uk/virtual_open_day