European Centres of Academic Excellence
Nottingham Business School – the Business School for Business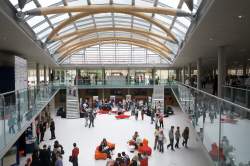 Nottingham Business School is one of the UK's largest business schools with over 5,000 students, based in the heart of Nottingham city centre.
With over 30 years' experience we have developed a wide range of business courses, all of them combining a stimulating learning environment with real-world experience. Our postgraduate level courses include Management and specialist areas such as Marketing, Economics and Finance and all students on our full-time Masters courses will receive a free iPad 3 to enhance their learning.
Scholarships are currently available for students wanting to study a full-time Masters course at Nottingham Business School. What to find out more? Take a look around Nottingham Trent University through our Virtual Open Day.

As a global leader in financial markets education and research, the ICMA Centre, part of the world renowned, triple accredited Henley Business School, can open up a world of opportunities within the finance, investment and banking sectors.
Our degrees at undergraduate and postgraduate level, as well as our Executive Education and PhD programmes, are industry-led and prepare you for a progressive career in the international finance and banking industries.
For more information visit our website, www.icmacentre.ac.uk, or call/email +44 (0)118 378 8239 admin@icmacentre.ac.uk
Many Schools of Management and Business will claim that they are unique. We don't claim to be unique, but we do know we can provide you with a high class learning experience, with fantastic employment prospects, a memorable student experience and more.

Located on the attractive Penglais Campus overlooking Cardigan Bay, we offer a unique environment in which to study and engage in research. Our attractive range of Postgraduate programmes, in which we emphasize small group teaching, are highly regarded.

Courses:

MBA (Accredited by the Association of MBAs)


Masters in Management
MSc Management
MSc International Business Management
MSc Management and Marketing
MSc Management and Finance
Specialist Masters
MSc Accounting and Finance
MSc Banking and Financial Regulation
MSc International Business and Public Policy
MSc Marketing
Nottingham Law School is one of the largest and most innovative law schools in the UK. Our professional focus and reputation for excellence distinguishes us from other law schools and our research and consultancy work is recognised around the world.
Our focus is on learning through experience, and we will help you to perfect the knowledge and skills you need to be successful in your career, whether you have chosen the legal profession or another career path.
You will be taught by qualified lawyers and leading academics whose research drives course design. We have particular expertise in the fields of legal education, business and insolvency law, and conflict, rights and justice, and have set up three research centres to enhance our profile in these areas.
Eram Cross Media College, University de Girona, together with the University of Northampton and the University of Lincoln joint their effort to offer quality education within a unique university experience.