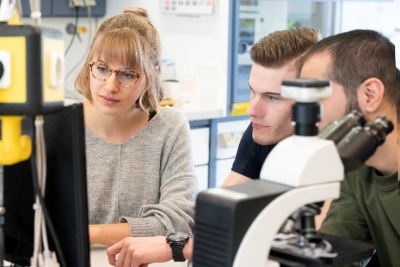 Course
Master's in Paper Technology



Degree awarded
Master of Engineering (M.Eng.)



Address
Institut for Paper Technology (IVP), Hochschule Muenchen, Munich University of Applied Sciences, Lothstr. 34, 80335 Muenchen, Germany


Telephone
+49 (0)89-1265-1597


E-mail address
papertec(at)hm.edu
kohr(at)ivp.org



Type of course
Full-time or part-time Accredited study programme


Language of tuition
English


Length of course
- 3 semester study programme for students with a degree in Paper Process Technology
- 4 semester study programme for students without a paper background but with a natural or engineering sciences Bachelor's degree (Bachelor of Engineering or Bachelor of Science)


Date of commencement
1 October


Application deadline
Continuing Education programme:
- Start only in winter semester (October)
- Application period: May 2 – July 15

Consecutive programme:
- Start possible in winter or summer semester
- Application period for the October start: May 2- July 15
- Application period for the March start: December – January 15

Apply online here


Cost / fees
Continuing education program: 4000 EUR per semester
Consecutive education program (for students with a background in pulp and paper) is Free of Charge


Student grants / Financial assistance
cholarships through the university are not offered. There is only a first semester scholarship for outstanding students available (offered by the Institute for Paper Technology), which would reduce the cost of the tuition fees for the first semester by half.
If applicable please ask for the application form.


Accommodation
We have the possibility to book a room in a student dormitory for you provided that you're admitted to our master programme.


Major recruiters of graduates of our programmes
Valmet, UPM, Wepa, Andritz, Voith, Smurfit Kappa, DS Smith, Mercer, Papierfabrik Palm, Delfort, Felix Schoeller Group, StoraEnso, Mondi, Papier-und Kartonfabrik Varel


Student profile
Master Students from India + Egypt + Bangladesh+ China + Brazil + Costa Rica + Germany + Finland+ Ghana + Iran + Nigeria + Mexico + Nepal + Pakistan + Russia + Sweden+ USA + Vietnam + Zimbabwe + Paraguay + …


Admission requirements
See below / opposite


Programme Academic Advisors
Prof. Dr. Helga Zollner-Croll
Prof. Dr. Jürgen Belle
Prof. Dr. Emanuele Martorana


Contact details for application
Nina Kohr
Phone: +49 (0)89-1265-1597
E-Mail: papertec(at)hm.edu
kohr(at)ivp.org