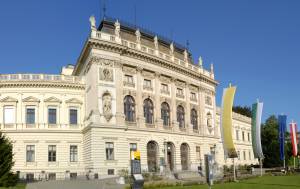 Course
MEIR NewLine Joint Master in European Integration and Regionalism



Address
EIPA Luxembourg, The European Centre for Judges and Lawyers, Circuit de la Foire internationale, 2 – LU-1347 Luxembourg


Telephone
+352 426 230 304


Type of course
Joint Master delivered by 5 partners: the University of Graz, the University of Zagreb, EURAC (European Academy of Bolzano) and EIPA (European Institute of Public Administration) centres of Luxembourg and Barcelona


Language of tuition
English


Length of course
18 months


Date of commencement
15 September


Application deadline
1 July


Class size
Limited to 30 people


Accommodation
Special fee including accommodation


Major recruiters of graduates of our programmes
EU Institutions, Non-governmental organisations, local, regional and national administrations


Admission requirements

Applicants for the programme are required either to hold a Bachelor degree and a Master degree in humanities or social sciences or to have 3 years of working experience and a Bachelor degree in humanities or social sciences or to have at least 7 years of working experience.

Proficiency in English is compulsory. Students whose mother tongue is not English must therefore demonstrate a high level competence in English, for example by producing evidence in the form of a language certificate in English (Minimum scores required: TOEFL: 78 internet-based, 547 paper-based; or IELTS: 6.0; or Cambridge Exam: FCE). Such a certificate is not necessary for students who graduated in a purely English environment.



European Institute for Public Administration
MEIR NewLine Joint Master in European Integration and Regionalism

Civil servants, persons employed by non-governmental organisations, journalists and teachers but also graduate students will find an interested in participating in this programme. We offer inter-disciplinary and practical approach, multinational body of lecturers and tutorial staff, inter-active learning methodologies, both online and in face-to-face sessions, worldwide network for future activities, access to international organisations and regional administrations through in-depth training in project management and multicultural communication. Due to its flexibility (modules and online training), the MEIR NewLine programme is particularly well-suited to accommodate the needs of professionals, who have only limited time available for face-to-face sessions.

The full Joint master's programme consists of three semesters: The first two semesters include five individual modules, each lasting for ten days, comprising lectures, workshops and case studies and related study visits to institutions in Graz, Luxembourg, Zagreb, Barcelona and Bolzano. Each module will be followed by a credit awarding exam. Online facilities will be used by participants to prepare the different Modules as well as for some exams and other course work. All teaching, studies and exams are undertaken in English.

During the second semester, participants are expected to produce a mid-term paper and during the third semester students are expected to produce an academic thesis on an appropriate topic suitable for submission. Research and preparation for this thesis may, if the student so wishes, either be undertaken at one of the partner institutions or as part of an internship in a local, regional or national administration of an EU Member State, an International organisation or other bodies of regional concern. However, students are not obliged to undertake such an internship nor additional study at a partner institution.

Applications can be made either to the full programme or to single modules. In the first case the successful conclusion of the programme leads to the award of the academic degree Master of European Studies (M.E.S.) by the University of Graz and the University of Zagreb. In the latter case attendance of a module leads to the award of a certificate of participation, and - if the subsequent exam is successfully passed - to the granting of 10 ECTS.

Module 1 on the Law of the European Union and its implementation takes place in Luxembourg and provides an introduction to the programme and explanation of the examination rules and of the use of the online platform. Topically, this Module provides first for a comprehensive view of the constitutional organisation and legal framework of the European Union. Secondly, it introduces fundamental concepts and principles of European Union law, both in general and within specific policy areas (general principles, fundamental freedoms, internal market harmonisation, competition and the development of an area of freedom, security and justice). Lastly, it provides a practical overview of the implementation of European Union law at both the EU, national and local levels.

Module 2 takes place in Barcelona and provides a thorough and comprehensive understanding of the political and economic aspects of regionalism and its structure in today's Europe. The first week will provide an overview of the principles of the European economic integration system. The main EU economic policy issues will be introduced and the concepts of regional development policies will be presented. The second week will illustrate how regions may steer their own economic destiny and enhance territorial cohesion by making use of the available resources and EU supportive actions.

The third Module, which takes place in Graz and in Zagreb, conveys theoretical and comparative knowledge about the different possibilities of territorial division of powers in European regions. It provides a theoretical analysis of the concepts of governance, political and public administration reform, as well as practical guidance through systematized experiences of public administration reform in EU member states and candidate countries. The specific topic include issues of ethics and integrity in governance, as well as anti-corruption strategies and assessment of new public management approach.

Module 4, taking place in Bolzano deals with the complexities of human and minority rights and diversity management in Europe mainly through the discussion of the international and inter regional protection mechanisms of the United Nations, the OSCE and the Council of Europe. The wide range of linguistic, educational and political rights to be found in different national constitutional systems will be explored as well as the concept of cultural diversity under EC law, the concept of European identity and the phenomena of immigration and integration, and social inclusion.

Module 5, which takes place in Barcelona, takes stock of the needs (do's & don't's) of local and regional actors regarding the funding period 2007-2013 (and beyond), and equips the participants with the necessary "skills" required to improve their performance in developing a project strategy and in acquiring and managing EU funds. Practical advice and techniques will be provided to participants so as to enable them to produce a convincing proposal, to establish sustainable local and regional partnerships and strategies and align them to the Lisbon targets, and hence to develop added-value projects for their territory. They will be able to quickly grasp the most relevant guiding principles and rules to prepare a bid for EU funding.


About the participating universities

The programme is offered by the Universities of Graz and Zagreb in cooperation with EIPA (European Institute of Public Administration, Antennae Luxembourg and Barcelona) and EURAC (European Academy of Bolzano, South Tyrol). EIPA Luxembourg is a leading institution providing a variety of services to the administrations and judiciaries of the EU Member States and the candidate countries as well as to EU institutions in support of their tasks related to European integration. Its staff is highly experienced in the training of civil servants and legal professionals primarily responsible for the implementation and application of the EU acquis. The same applies to EIPA Barcelona, which has long standing experience in the EU's regional policy and the uniform implementation of Community policies at the regional level within the EU Member States. The University of Graz is an ideal venue for this programme: Not only has it established a Centre of Excellence on Southeast Europe, a region which will play a crucial role in defining the future of the European Union, but it is also located in one of the Austrian Bundeslšnder, Styria, which serves as an excellent example when studying the phenomenon of federalism in Europe. Established in 1669, University of Zagreb is the oldest university in South-Eastern Europe and the most prestigious teaching institution in Croatia. It also has a strongly research-oriented policy, contributing with over 50 percent to the total research output of the country. The Faculty of Law is a leading higher education, which provides teaching in the area of legal studies, social work and social policy and public administration. Its scientific and professional activities are organised within six institutes and one study centre. EURAC, the European Academy is located in the autonomous region of Trentino-Alto Adige/South Tyrol in northern Italy. The case of South Tyrol is often quoted as a model of self-governance and regionalism as well as a model solution for minority protection. Hence the Institute for Minority Rights at EURAC is able to provide exceptional theoretical and practical knowledge in the examination and application of issues related to minority protection and regionalism.