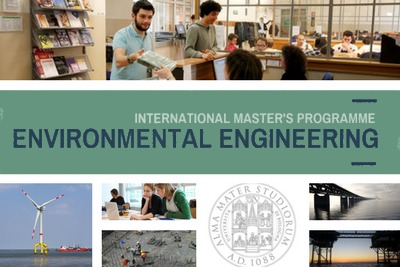 Course
International Master's Degree in Environmental Engineering – Earth Resources Engineering (ERE)



Address
Department of Civil, Chemical, Environmental and Materials Engineering – Alma Mater Studiorum Università di Bologna, Viale del Risorgimento 2, 40136 Bologna, Italy


Telephone
+39 051 209 3726


E-mail address
dicam.didattica(at)unibo.it


Web address
Course website


Type of course
Full time; International Degree Programme taught in English; Dual degree programmes.


Language of tuition
English


Length of course
2 years – 120 ECTS


Date of commencement
September 2018


Class size
Approx. 40


Cost / fees
Approx. 3.295 €/year


Student grants / Financial assistance
University students may obtain economic support during their studies from the Emilia Romagna Region, the University of Bologna and other external bodies.


Accommodation
Not available


Exchange partner schools
Columbia University in the City of New York (NY, USA)
University of Miami (FL, USA)
Université de Liège (Belgium, EU)


Student profile
1. Ratio of National / Overseas students 50/50
2. Ratio of Men / Women 50/50
3. Age range 21-24


Major recruiters of graduates of our programmes
ERE graduates will be prepared to move to higher levels of their careers, across a variety of industries and sectors. They will gain access to a wider range of positions both in engineering companies and in national and international government agencies. Besides these traditional activities, in industrialized and rapidly evolving societies, the skills of Environmental Engineers are increasingly needed in the fields of territory planning and environmental conservation. Moreover, the rising demand for safety and protection against natural and industrial risks is the framework in which the skills of Environmental Engineers meet the continuously evolving needs of civil protection agencies.

The Master's gives access to third cycle studies (PhD/Specialisation schools) and to professional programmes.


Admission requirements
Call for applications for the Master's Degree Programme starting in September 2018: http://corsi.unibo.it/2cycle/EnvironmentalEngineering-ERE/Pages/call-for-applications-academic-year-201819.aspx Admission to the International Master's in Environmental Engineering, ERE international curriculum requires a 1st cycle Italian degree or equivalent bachelor achieved at legally recognised Institutions in Italy or abroad.

Who might apply:

Students who either hold a BSc and/or a MSc, or expect to hold one by the end of the enrolment period at Unibo (end of December), in the following topics:

- Environmental Engineering;
- Civil Engineering;
- Chemical Engineering;
- Petroleum Systems Engineering;
- Resources Engineering;
- Biotechnology.

The Commission for the selection of candidates will evaluate the CVs considering both the relevancy of the exams taken during the studies and the working experience. Anyhow, it is expected that the students should already have a sound background in Maths, Physics, Chemistry and in the basic engineering disciplines, in order to be ready to successfully follow the courses offered in the Master program.

Knowledge of the English language (level B2 according to the Common European Framework of Reference) is also required.

For Non-EU citizens, an annual quota of places is set each year by the University of Bologna. For the Master Degree in Environmental Engineering, ERE international curriculum, in the academic year 2018/2019, a maximum of 40 non-EU students will be accepted.

Please note: no entrance exam nor Italian proficiency test are required for the Master's Degree Programme in Environmental Engineering.


Programme Director
Prof. Stefano Gandolfi


Contact details for application
Dicam International
+39 051 209 3726
dicam.didattica(at)unibo.it