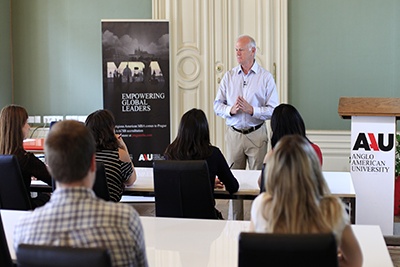 Course
Master of Business Administration (MBA)

Offered in a partnership: The School of Business and Economics at Chapman University, the U.S. and the School of Business Administration at Anglo-American University, the Czech Republic



Degree awarded
AACSB-accredited M.B.A. (Master of Business Administration) Degree is awarded by Chapman University based in Orange, California, USA



Address
Anglo-American University, Letenská 5, Prague 1, the Czech Republic


Telephone
+420 257 530 202


E-mail address
info(at)aauni.edu



Type of course
Full-time degree with a weekend structure designed for working professionals


Language of tuition
English


Length of course
17 months


Date of commencement
Fall (the end of September)


Application deadline

May 30 (recommended for visa seeking applicants)
Regular deadline: August 31
Applications received after the regular deadline will be considered on a space available basis.
Class size
15 – 20 students


Cost / fees
USD 21 500 for a 17-month program, including all study materials (about ¼ of the cost of tuition of a comparable MBA program in the US.)


Student grants / Financial assistance

Early-payment discount 5%
Private bank loans, students from the US are eligible for student loan deferment
Payment possible in three instalments
Accommodation
AAU will be offering student housing starting in the Fall of 2019. For more information contact our admissions team at admissions@aauni.edu. AAU can also recommend local rental agencies, private dormitories, flat sharing housing forums, and other options to help you find the right housing.


Exchange partner schools
Chapman University, Orange, California, USA
Chapman University is a long established and reputable university ranked #6 in the Western Region of the USA and considered, "Most Innovative." The AACSB-accredited Argyros School of Business and Economics at Chapman University guarantees top quality teaching for the entire MBA program in Prague. The Prague MBA students also have an opportunity to take one elective MBA course on site at the Chapman University Orange campus, CA for our lower price.


Student profile
1. Ratio of National / Overseas students: 20% Czech students, 80% international students
2. Ratio of Men / Women 3:1
3. Age range 23-38


Admission requirements
BA degree from an accredited university
English at an excellent level
Ideally, above 3 years of work experience
GMAT exam (from the BA graduating with GPA< 3.00)


Contact details for application
Romana Kavanová
Address: Letenská 5, Prague 1, the Czech Republic
Telephone / Fax: +420 257 530 202