Master in European and International Law (LL.M.)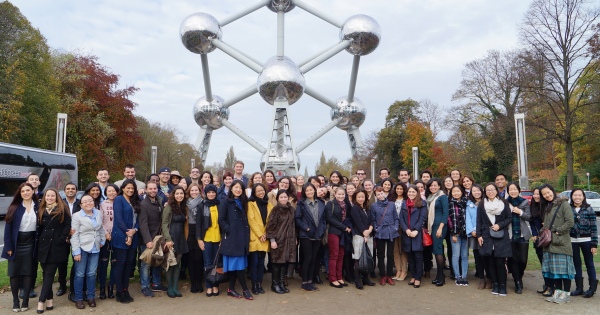 My experience with studying European and International Law at the Europa-Institut
My name is Silvia Arruebo and I was part of the academic year of 2017/2018 at the Europa-Institut. I come from Spain and finished my degree in law some months before coming to Saarbrücken, West Germany. After one year, I can sincerely declare this was one of my best choices so far.
First of all, Saarbrücken is the perfect destination for international students. I am not a fan of big cities but they should not be too small either. From my point of view, Saarbrücken has the best size for spending one year abroad. Accommodation and prices in general are very affordable, the city is full of students from all over the world, it is safe in general, and night life is awesome. In addition, the location of Saarbrücken right in the middle of Europe allows you to travel as much as you want, and reach cities like Strasbourg, Luxembourg or Paris in less than 1,5 hours. Taking the tram and having breakfast in France (10 minutes away) is an experience everyone should try!
Secondly, I can really recommend the Master's program. My class consisted of about 75 students from more than 35 different nationalities, which creates a wonderful mixture of cultures and languages and enables you to find friends in every corner of the world. The program provides six modules: Module 1: European Integration and Modules 2-6 with the study units European Economic Law, Foreign Trade and Investment, International Dispute Resolution, European and International Protection of Human Rights and IT Law (currently only offered in German) and then choose to specialize on two. The faculty is diverse and highly specialized. Most of the lecturers are also practitioners which means that they can give you valuable insight into how things are actually done. Apart from the regular lectures, I also took part in a mooting exercise, which consisted of a simulation of a trial in the European Court of Justice. Furthermore, some of my classmates took part in EUROSIM, one of the largest simulations of European Union decision-making processes in the world, and had to represent a role in the European Commission. These activities allow you to face real situations and prepare you for your future career.
Moreover, the Europa-Institut took us to Brussels, Strasbourg, Luxembourg, Berlin, Paris, and even the United States. All these trips offer a perfect balance between academic activities and leisure, and the atmosphere between students and staff was amazing. In Berlin we had the opportunity to listen to some of the main politicians in Germany, including German chancellor Angela Merkel. In Atlanta and Kennesaw (Georgia, USA) we spent eight days doing a dispute resolution course and getting to know the American university system, students and professors.
Regarding job opportunities after the program, the Europa-Institut connects you with the European institutions and different law firms, and also has a network of alumni that can advise you on future job opportunities.
The Europa-Institut staff is incredibly helpful and provides academic assistance even before the program starts, and always puts all their effort to make us feel at home.
To sum it up, I can only recommend applying for the Master´s program at the Europa-Institut! More information on the program can be found here:
europainstitut.de/en/studies/master-llm/the-study-program/
Applications are welcome by 15 July – the online application can be found here:
www.europainstitut.de/onlineapplication
.
By Silvia Arruebo