University of Koblenz-Landau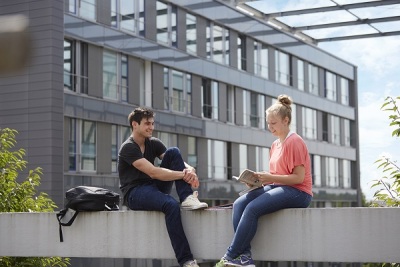 The University of Koblenz-Landau is one of the youngest universities in Germany and has grown considerably in its relatively short history. Since its transformation from a teacher training college in 1990, numerous new departments and institutes have sprung up. In addition, a wide range of new degree programs and chairs have been created, and existing courses and research consistently expanded.

At the eight existing faculties on the two campuses in Koblenz and Landau, you can currently study Education, Arts and Humanities, Social Sciences, Sciences, Computer Science (Koblenz) and Psychology (Landau). Since 1990, the number of students has increased dramatically to about 16.000 enrolled students, with approximately 8.000 at each campus.





UNIVERSITY OF KOBLENZ-LANDAU MASTER'S PROGRAMMES




M.Sc. Mathematical Modelling of Complex Systems
The two-years English-taught master program "Mathematical Modelling of Complex Systems" focuses on advanced techniques of modelling, simulation and optimization. A substantial set of elective courses allows concentration on areas of individual interest. A mobility window enables the students to study abroad and gain scientific and cultural experience at international partner universities.


M.Sc. Ecotoxicology
Ecotoxicology aims to investigate effects of chemicals on biological systems in order to develop methods for risk assessment and management, as well as to predict ecological consequences. The international Master of Science in Ecotoxicology therefore integrates concepts of Environmental Chemistry, Toxicology, and Ecology and includes Social Sciences and Economics, as well.


M.Sc. Environmental Sciences
In order to cover the need for environmental specialists, the program "Master of Science in Environmental Sciences" at the University of Koblenz-Landau provides a research-oriented, unique blend in the core disciplines of natural sciences (including environmental chemistry, landscape and applied ecology) complemented by selected aspects of social sciences such as environmental economics. You can acquire advanced methodical skills, a profound understanding of environmental problems across different scales from molecules to landscapes, and the capacity to develop solutions for these complex, interdisciplinary problems.


M.Sc. Chemistry and Physics of Functional Materials
The master's program "Chemistry and Physics of Functional Materials" enables graduates of the bachelor program "Applied Natural Sciences" and similar study courses of other faculties at German and international universities to work in research in the fields of chemistry, physics and material sciences. The program addresses students with interest in doing research with functional materials. Based on the chemical and physical knowledge of the bachelor program a more comprehensive understanding of the relations between composition and structure of the materials on the one hand and their chemical and physical characteristics on the other hand is given.


M.Sc. Web Science
With a master's degree in Web Science students will be able to technically improve and analyse the web, to understand how the web influences people and what makes online businesses successful. They will not only learn about legal aspects of the web, but also to analyse and understand its content and the communication between its users. Finally, they will be able to mathematically describe and predict all of the above.