Berlin University of Technology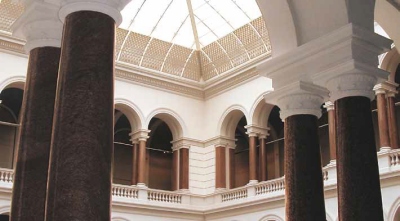 The internationally renowned Technische Universitšt Berlin (TUB) is located in Germany's capital city at the heart of Europe. The academic activities are focused on achieving sharply-defined goals: building a distinctive profile for our university, ensuring exceptional performance in research and teaching, providing our graduates with excellent qualifications and a modern approach to university administration.
The TU Berlin strives to promote the dissemination of knowledge and to facilitate technological progress through adherence to the core principles of excellence and quality. Strong regional, national, and international networking with partners in science and industry are an important aspect in these endeavors.
TU Berlin is an internationally renowned research-intensive university dedicated to promoting science and technology for the benefit of broader society and committed to the principle of sustainability. The challenges and problems facing modern societies cannot be met on the basis of findings from individual disciplines. TU Berlin is addressing these challenges with the aid of transdisciplinary collaborative projects. The establishment of important research partnerships in the context of the Excellence Initiative, the German Research Foundation (DFG) and European Institute for Innovation and Technology, in addition to constantly increasing third-party funding for the research projects, demonstrate the dynamic developments in this area.
Prestigious science prizes and awards make these successes even more obvious; these include Alexander von Humboldt Chairs, Einstein Chairs, Gottfried Wilhelm Leibniz Prizes, and numerous grants from the European Research Council. Research for Innovation - a credo that TU Berlin impressively implements. Its extraordinary profile as a technical university in association with its humanities, social, planning and economic sciences programs is indeed an excellent breeding ground for strong interdisciplinary work. By combining basic and applied research endeavors, and with close links to partners in science and industry, university researchers tackle societal issues and develop forward-looking solutions.
BERLIN UNIVERSITY OF TECHNOLOGY MASTER'S PROGRAMMES
EUREF CAMPUS
Building Sustainability – Management Methods for Energy Efficiency (MBA)
Strategic concepts for communication and cooperation in large-scale projects are crucial for their success. Whereas, "simply" building a house has become a manageable task, things become much more complicated when considering the urban environment and wider interests such as energy efficiency. The Master program, Building Sustainability focuses therefore, not only on technical and economic perspectives, but also aims at imparting relevant knowledge from other disciplines.
Energy Management (MBA)
As the global environment changes and new technologies evolve, energy management becomes a complex, fast-paced field, requiring new solutions to be delivered by highly skilled and appropriately trained individuals. This Master program "Energy Management" at TU-Campus EUREF in Berlin not only conveys the latest insights in energy management issues, but discusses toady's challenges and prepares students for leading roles in shaping the industry, and society, for the future ahead.
Master in European and International Energy Law (MBL)
Technische Universitšt Berlin offers the advanced Master of Business Law European and International Energy Law on the EUREF Campus in the centre of Berlin. The course offers lawyers, legal practitioners and economists an excellent opportunity to gain expertise in the field of international and European energy law. Students will become acquainted with the technical and economic foundations of energy markets as well as all areas of law relevant for the value chains in the electricity and gas sector. The curriculum covers competition law, regulatory law and economic fundamentals inter alia.
Sustainable Mobility Management (MBA)
TU Berlin's master program in "Sustainable Mobility Management" closes the educational gap in this field and prepares students for leadership positions by training people who can deliver cutting-edge and sustainable mobility solutions. The master program is intended for an international and diverse audience: Learning and studying in small groups of up to 30 students means excellent and tailored learning conditions.