Karlsruhe Institute of Technology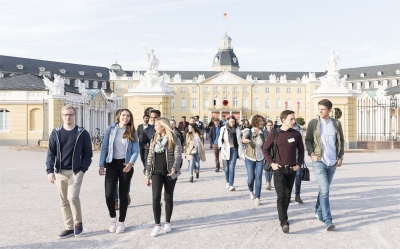 Karlsruhe Institute of Technology (KIT) is one of eleven Universities of Excellence in Germany. Our concept "The Research University in the Helmholtz Association I Living the Change", with which we were successful in the Excellence Strategy Competition of the Federation and the Federal States in 2019, focuses on enhancing top-level research in the complete range from fundamental research to application. This shall be achieved, among others, by 100 new professorships, intensive dialog with society, and offering reliable career paths to young scientists.
In the competition, KIT succeeded in acquiring two research clusters: The cluster "3D Matter Made to Order" covers the production of smallest components and systems by nanoprinting, "Energy Storage Beyond Lithium" focuses on novel energy storage systems of increased performance.
Masters Programmes
HECTOR School of Engineering & Management
M.Sc. in Energy Engineering and Management
The Master´s program, Energy Engineering & Management (EEM), focuses on professionals working in companies that deal with the generation, transportation, distribution, storage and sale of energy (electrical, thermal, etc.), their suppliers and industrial sectors that rely on energy heavily. Graduates of the program stand out due to an extensive overview on present and future technology for new energy systems.
M.Sc. in Financial Engineering
Machine learning is changing nearly all aspects of our lives. Today algorithms execute tasks that until recently only human experts were able to perform. Especially in the financial industry, these developments led to a disruptive change in business models and technology (FinTech and InsurTech) and thus to dramatically transformed risk and investment processes. These new challenges come along with new job opportunities that require a completely new set of skills. Nowadays thorough data science, engineering and programming skills are essential to nearly every task in the risk and investment industry.
M.Sc. in Information System Engineering and Management (ISEM) - Digital Transformation of Products, Services, and Organizations
The Master Program Information Systems Engineering & Management (ISEM) qualifies graduates to drive digital transformation of products, services, and organizations from a business and IT perspective. Graduates encounter digitalization challenges with an engineering orientation and solve them with the help of modern management methods. They are also in a position to make efficient and effective use of information technologies within organizations following a socio-technical paradigm.
M.Sc. in Management of Product Development (MPD) – Agile Systems Design
Participants of the master program Management of Product Development (MPD) are able to analyse, design, operate and implement the product development process in their companies in an optimized way by means of acquired research and application-oriented methods and processes. Based on an integrated approach to product creation processes, the graduates can successfully implement innovative ideas and innovation in competitive products, while they draw a special focus on major criteria such as customized product solutions, the reduction of production costs as well as the optimization of quality standards.
M.Sc. in Mobility Systems Engineering and Management
The Master Program in Mobility Systems Engineering and Management, started in October 2018, offers a unique combination of courses in emerging technologies, systems engineering knowhow and methods as well as management tools tailored for those challenges of mobility: e-drive, auto-drive, communication-over-the-air, and worldwide release and configuration management. Within the master program specifications in those area can be chosen.
Karlsruhe School of Optics and Photonics
M.Sc. in Optics and Photonics
The Program aims at educating excellent students in Optics & Photonics worldwide. The interdisciplinary research structure of the international graduate school forms the basis for this outstanding Master's program. Completely taught in English, the program is developed for 40 students each year who apply with a completed Bachelor's degree in natural or engineering sciences. After completing the fundamental introductory courses and core subjects in the first two semesters, each student chooses a research specialization.