University of Bologna, Italy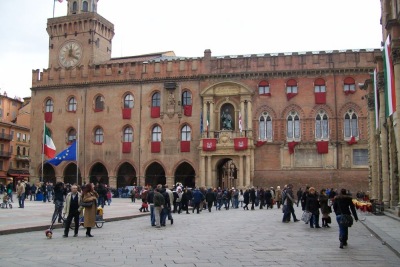 The Alma Mater Studiorum, the oldest university in the Western world, paves the way for innovation through an increasingly rich programme catalogue, cutting-edge research and a constant and increasingly broad international perspective.
Since its origins in 1088, Alma Mater has been student-centred hosting prominent figures from science and the arts. Based in five campuses (Bologna, Cesena, Forlė, Ravenna, Rimini), with a branch in Buenos Aires, it offers a teaching catalogue diversified and tailored to the needs of present-day society: over 200 degree programmes among its 33 Departments and 11 Schools are offered to over 81,000 students. 5,000 graduates are enrolled in PhDs and 3rd cycle programmes.
As a comprehensive research university Alma Mater invests in the multidisciplinary cross-cultural approach and in the inseparable connection between research and teaching. One of the most active universities leading and participating in European research and academic cooperation projects, Bologna has formed knowledge alliances with industry and public/private organizations. It is a hub of international networks. Beyond its close European links, it enjoys multiple connections with America, Africa, Asia and Australia.
UNIVERSITY OF BOLOGNA MASTER'S PROGRAMMES
SCHOOL OF CIVIL, CHEMICAL, ENVIRONMENTAL AND MATERIALS ENGINEERING (DICAM)
International Master's Degree in Chemical Engineering – Sustainable Technologies and Biotechnologies for Energy and Materials (STEM)
A Master's degree in Chemical Engineering is key to professional success in several modern and innovative industrial sectors. Smart materials, sustainable processes for energy production, industrial biotechnologies, and advanced pharmaceutical applications are only some of the examples of sectors where the expertise of chemical engineers is sought and highly rewarded.
International Master's Degree in Civil Engineering
The International Master's in Civil Engineering is a graduate programme (Laurea Magistrale) which aims at educating professionals with the necessary in-depth scientific and technical knowledge in the field of civil engineering. The programme prepares graduates to practice their profession at an advanced level and with a unique exposure to an international environment to better understand global issues of civil engineering.
International Master's Degree in Environmental Engineering – Earth Resources Engineering (ERE)
Material and energy flows through industrial systems and connections between operators within the "industrial ecosystem" will be tackled from a systemic point of view. Whilst looking at their global impact from the outset, the programme will focus on: Earth resources management; Sustainable development; Resource efficiency and resource savings; Rational exploitation of oil and gas reservoirs; Water resources; Pollution prevention; Waste prevention; recycling; waste and bio-waste valorisation; Reclamation and health.
International Master's Degree in Historic Building Rehabilitation (HBR)
The need to improve existing buildings for new purposes, and the importance of architectural heritage conservation, are becoming issues of great importance around the world, in the field of rehabilitation of historic buildings. The growing cultural value attributed to the existing building and the economic and environmental benefits associated with its conservation are two crucial topics on this field. Moreover, high-profile skills are required, in order to meet its specific characteristics and constraints.
Master's Degree in Off-shore Engineering
The exploitation of off-shore resources will play a strategic role in the future of mankind. A sustainable valorization of renewable and conventional off-shore energy sources may give a relevant contribution to balance the overall energy demand. The exploitation of marine bioresources combined to the improvement of coastal infrastructure can be a key to the economic development. Improved off-shore technologies will be needed to realize such scenario.
SCHOOL OF ECONOMICS MANAGEMENT AND STATISTICS
Master's Degree in Resource Economics and Sustainable Development (RESD)
RESD offers an excellent preparation in environmental economics, a critical understanding of the issues involved in sustainable development both from a theoretical and practical perspective and of the complex interactions between economic decisions, market forces, governmental policies and the environment.
SCHOOL OF POLITICAL SCIENCE
Master in International Relations and Diplomatic Affairs
International Politics and Markets (IPM) is a curriculum of the second cycle degree programme in International Relations and Diplomatic Affairs aimed at preparing experts able to analyze the relationship between states and markets, both nationally, through comparative studies, and internationally.