University of Erlangen-Nürnberg
Erlangen, Germany
| | |
| --- | --- |
| Master Programme in Advanced Optical Technologies | |
The programme MAOT
The Master Programme in Advanced Optical Technologies (MAOT) at the University of Erlangen-Nuremberg (Bavaria/Germany) provides extensive training in all applied fields of modern optical technologies.

MAOT is open to graduates with a bachelor's degree in physics or a relevant engineering subject.

The 2-year programme covers six topics:

optical metrology
optical material and systems
optics in communication
computational optics
optics in medicine
optical material processing

Students are given an introduction to all six topics and choose three as major subjects. In the international and interdisciplinary programme lectures are conducted in English by experts from physics, medicine, computer science and engineering (electrical engineering, mechanical engineering, chemical engineering).
Special features
MAOT has its own teaching rooms as well as computer-equipped work places for their students.
Lectures are given in small groups with a high level of interactivity.
The MAOT office provides support in all administrative issues and matters of daily life (e.g. accommodation). Support in getting a scholarship can be given. There is no tuition fee for MAOT.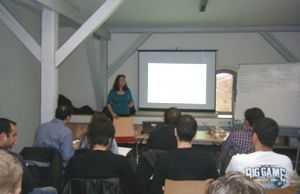 MAOT cooperates closely with the SAOT doctoral programme which is located in the same building which has brand new lab Master's and PhD students work together in classes or in research groups with the SAOT principal investigators.
MAOT qualifies for a high qualified job in the industry as well as for a succeeding Ph.D..
Optics in Erlangen
Erlangen is one of the leading centres of excellence for optics and optical technologies in Germany and the world.
In addition to MAOT the PhD programme SAOT in Optical Technologies and the Max-Planck-Institute for Science of Light is located in Erlangen.
The application of optics in medicine is supported by an outstanding hospital infrastructure (Erlangen is a 'medical valley').
Two Fraunhofer institutes and the Bavarian Laser Centre complete the picture.
The city of Erlangen
Erlangen is a lovely city with a high level of university graduates from across the world. Siemens has its second biggest location world wide in Erlangen and other high-tech and global companies, such as Puma and Addidas, are based in or around the city Erlangen.
Erlangen is part of the 'Greater Nuremberg' region with more than 1,000,000 inhabitants. It lies In the heart of Germany with quick train connection to all famous cities like Munich, Hamburg or Berlin.
The University with five faculties and more than 20,000 students provides programmes in all core subjects of science.
Conctact and more information