Located within the lively and multi cultural city of Birmingham, Birmingham City University is an international university with students from over 80 countries offering a vital and diverse contribution to your learning experience.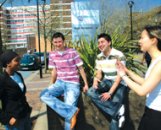 Birmingham City University is an exciting and vibrant place to learn. With a heritage stretching back to the mid 19th Century, weíre well-established and proud of our strong links with industry and the professions.
Our campuses across the City give access to cutting-edge technology and the latest learning and teaching methods. We offer over 300 courses to around 23,000 students in subjects including Acting, Accounting,
Architecture
, Art and Design, Business and Management,
Computing
, Engineering, English, Health, Law, Marketing, Media, Music, Planning and Construction and Teacher Training.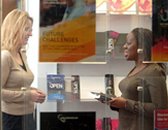 As well as a first class education we work hard to understand and meet your needs and requirements providing support throughout your stay with us; this includes an orientation week accompanied by a dedicated student advisor, a fresherís fair to introduce you to all aspects of the University, counselling, sports facilities, library facilities and much more.
International students receive priority allocation of University accommodation which is situated across 6 sites across the city, close by to its City campuses.