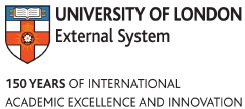 AMBA-accredited MBA/MSc programmes in International Management, plus new programmes in International Business and undergraduate programmes in Business – all developed by academic staff within the renowned School of Management at Royal Holloway, University of London.

Choice: Extensive range of topical, financial, business and legal options leading to a range of qualifications that may help to assist a career change, achieve a salary increase, improve promotion prospects or simply broaden horizons and increase marketability.

Flexible and Convenient: As you study by distance learning, you can fit your course in with your lifestyle and work. There are flexible admission points, payment, assessment and study periods. Personal support when you need it: Face-to-face plenary sessions (for programmes in International Management), an assigned tutor, careers guidance throughout your studies, study skills support, many assessed pieces of work, and group work via online tutor-assisted seminars.
ONLINE WEBINAR
You can attend an exclusive online event to find the answers to all your questions, and help you complete your application

Thursday, 4th June, 12.00am - 2.00pm UK (GMT)

Participants from the University of London include:

Dr Bill Ryan, BSc Business Administration Programme Director

Dr Sameer Hosany, MBA Deputy Programme Director

Elizabeth Emmett – MBA Administrator

Christine Olivier, Project Manager: External and Executive Programmes

Will Eames, Deputy Head, Information Services

Rebecca Strachan, Undergraduate Admissions Manager

Nicola Brough, Postgraduate Admissions Manager

Places are limited so please register early to avoid disappointment.

SIGN UP FOR THE SEMINAR NOW or contact our Information Centre for an informal discussion:

Tel: +44 (0) 20 7862 8360
Email: enquiries@london.ac.uk


---

EuroEducation respects your privacy. You have received this email because our records indicate you have signed up for EuroEducation's Newsletter and have given us permission to communicate with you via email. If you'd like to discontinue receiving emails from EuroEducation please click REPLY, type the word REMOVE on the subject line and click SEND