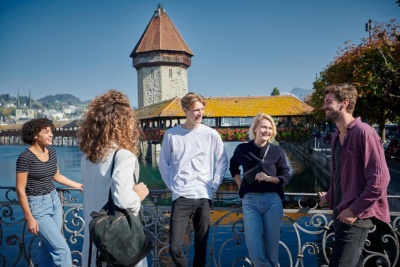 Course
Major in International Tourism Management, Master in Business Administration



Degree awarded
Master of Science (M.Sc.) in Business Administration



Address
Lucerne University of Applied Sciences and Arts, Lucerne School of Business, Zentralstrasse 9, 6002 Luzern, Switzerland


Telephone
+41 41 228 41 86


E-mail address
florian.eggli(at)hslu.ch



Type of course
Flexible full and part time programmes available, in three or four semesters


Language of tuition
English


Length of course
Full time: 3 semesters
Part time: 4 semesters (extendable to a maximum of 8 semesters).


Date of commencement
Study starts in spring and autumn


Application deadline
30 April


Class size
Seminar style classes of 15 to 20 persons


Cost / fees
Enrolment fee: CHF 250
Semester study fee: CHF 800
Same fee for national and international students


Student grants / Financial assistance
Special scholarship for International Tourism Management students


Accommodation
We offer affordable accommodation for local and exchange students.


Major recruiters of graduates of our programmes
This programme combines subjects that cover general business management necessary for the service sector, as well as tourism management. This attractive combination means that our graduates are employable in a wide variety of positions in various service sectors plus specifically in the tourism sector.


Exchange partner schools
Dual Degree programmes with Edinburgh Napier University and Hong Kong Polytechnic University


Student profile
1. Ratio of National / International students - 30% National/ 70% International
2. Ratio of Men / Women - 40/60
3. Age range - 25-30 yrs


Admission requirements
Bachelor's degree equivalent to 180 ECTS in Business Administration or Management, Economics or Tourism, C1 English diploma


Programme Director
Dr. Florian Eggli, Head of Major


Contact details for application
Florian Eggli, Head of Major
Nen Arreeya Rast, Master's Secretariat