So, you've decided to work towards enrolling in an MBA degree. But if you've spent even a mere five minutes looking for a program to apply for, you know that there are way too many options to choose from. Still, you have to choose somehow, right?
Of course, you don't want to take a stab in the dark and choose the first program you see. You want the best for yourself. You value your time – and your hard-earned money – and you have no desire to waste either on a course that won't teach you much.
If enrolling in an MBA program the next logical step for you is to strap in for a long search and research. So, ensure that you have enough time to be as thorough as possible. If you're wondering, "Can
I pay someone to write my paper
to free up some time?" The answer is, "Of course, you can!" Once you do, follow these six tips.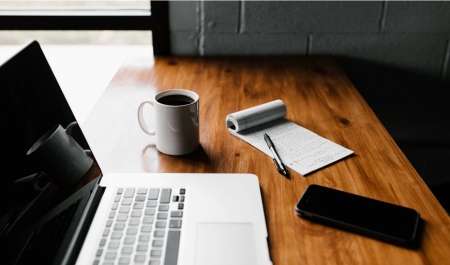 Photo by
Andrew Neel
on
Unsplash
1. Ask Yourself These 4 Questions
It all starts with some self-reflection. Before you do anything else, you need to be 100% certain that an MBA is the right choice for your future and your life goals. And you must know what you want to get out of the course, too.
So, here are four questions you should answer before you take to googling "best MBA courses near me":
Why do you want to pursue an MBA degree?
How can it help you build your career in the long run? (The words "in the long run" are key here. Don't think too hard about the short-term benefits.)
What kind of curriculum will better serve your goals? (Some programs focus heavily on entrepreneurship, others – on marketing or finance.)
Which skills do you want to build while studying? How would you like to build them?
2. Determine What "Best" Means for You
Don't rely too much on all those rankings out there. They use a standardized definition of the word "best." That definition probably doesn't match your personal needs and preferences to a T.
An
aspiring entrepreneur
won't thrive on lectures alone. For example, case studies are a more efficient way to learn for them. And they would want to prioritize networking during their studies, too.
So, you need to have your selection criteria ready before starting your research. Here are five of them you should define:
Format. If you already have a job, you'd have to opt for a part-time program. But if you want complete immersion, a full-time MBA will be a better fit.
Location. Are you ready to relocate for studies and, later, work? If so, where? Would you rather go to a local school or an international powerhouse?
Tuition. MBA programs are even harder on the wallet than undergraduate ones. So, look into your financing options and define your budget.
Academics. What does high-quality education mean for you? What teaching style (case-based or lecture-heavy, for example) do you prefer?
Culture. Under what circumstances do you learn the best? Do you thrive when you're in the competitive spirit? Or do you prefer a collaborative atmosphere?
3. Comb Through the MBA Programs Available
Now, it's time to do some online research. Despite their flaws, rankings are still a good place to start. Even though they can't tell you this program is better than that one for you, they can give you an idea of what options are on the table.
Still, don't forget to google the MBA programs in your desired location. If you'd prefer a local school's MBA with an affordable price tag, they probably won't be featured in those rankings – at least not in the top ten. (That's not to say they can't give you a quality education, by the way.)
Then, gather all the info about every MBA program you've found. (It's a good idea to keep a Google Doc or a spreadsheet to keep track of all programs and compare them.) Assess the criteria that matter for you.
Pay special attention to the curriculum: the same curriculum can work great for a future
business analyst
but be terrible for someone who wants to start their own business. For the same reason, check what career outcomes the school promises to its graduates.
4. Consider Your Chances to Get in & Create a Short-List
Maybe, Harvard's MBA is a perfect fit for you, but what does it matter if you can't beat the competition to enroll in it? That might sound harsh, but that's the reality – and you can't dismiss it.
But how do you assess your chances of getting accepted for this or that program? Some schools publish their GPA and GMAT thresholds for the previous admission campaign; others don't. In the latter case, check out websites like Niche.com and The GMAT Club.
It's a good idea to sort all programs on your list into these three categories:
Realistic: your GPA and GMAT are within the 25th to 75th percentile of the last admitted class;
Reach: your scores are below the 25th percentile;
Safety: your scores are above the 75th percentile.
5. Book a School Visit or Go to an On-Campus Event
No brochure will never come as close to experiencing the actual culture and atmosphere of a school as an in-person visit. So, even if you're told it doesn't matter, book an on-campus visit or go to an admission event.
Unfortunately, as the world is still struggling with reopening during a pandemic, some schools don't plan to hold such events – or some might cancel them. And while virtual events aren't a 100% adequate substitute for an in-person visit, sign up for one. It's better than nothing.
During these visits or events, remember to ask good questions:
Focus on the information that will be helpful to other attendees when in a group setting;
Leave the questions specific for your particular case for talking one-on-one with a school staff member;
Don't ask the questions that have already been answered, either on the school's website or during the event.
6. Read the Reviews & Talk to Alumni and Current Students
Events and visits can only go so far. They're great for grasping the culture of the establishment and getting answers to particular questions.
But there's a major pitfall to them: the school's staff is incentivized to tell you only the good stuff. They're, essentially, salespeople, so take everything they say with a grain of salt.
To get a real view on the quality of education, you need the opinions of the program's current and former students:
Start with reading reviews on websites like Niche.com, Bestcollegereviews.org, and mba.today;
Find the school's student and alumni groups on social media and post your questions there (e.g., "Do you have a lot of study cases on e-commerce businesses and digital marketing?");
Ask around: maybe you know someone who knows someone who is enrolled in that program.
In Conclusion
After these six steps, you'll have all the information you need to make a well-weighed decision and pick your frontrunners.
It's better to select up to five programs. If you choose more, you'll be stretching yourself thin for the admission process. If you pick only one or two, you'd be resigning yourself to an "all or nothing" kind of situation.
What's next? The answer is those two much-dreaded, stress-inducing words: "admission process." You'll need to pass your GMAT exam (if you haven't yet), write your essays, get the letters of recommendation, and make a great impression during the interviews.
If it sounds overwhelming and/or intimidating, there's no point to lie: it can be. But if you keep reminding yourself that enrolling in this particular MBA program you've chosen is worth it, you'll get through it.